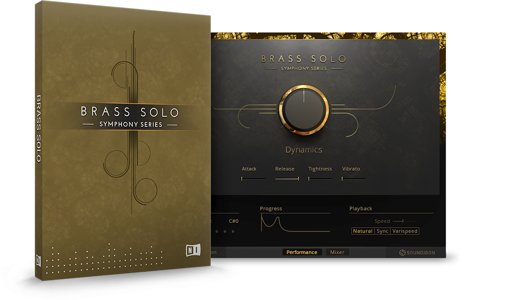 Native Instruments Symphony Series Brass Solo v1.1 Kontakt
Information:
Welcome to SYMPHONY SERIES - BRASS SOLO. State-of-the-art recordings deliver unparalleled sonic depth and realism. An uncluttered and elegant interface accelerates any workflow.
And flawless KOMPLETE KONTROL S-Series integration immediately puts key parameters under your fingertips. Created for the professional composer, SYMPHONY SERIES sets a new standard in orchestral scoring. Like BRASS ENSEMBLE, SYMPHONY SERIES - BRASS SOLO was produced in cooperation with Soundiron.
TOP-CLASS RECORDINGS
Like BRASS ENSEMBLE, BRASS SOLO was recorded at Saint Paul's Church in San Francisco. BRASS SOLO captures the sound of world-class lead trumpet, trombone, first and second horn, and tuba soloists.
Breathtaking post-sustains were achieved by recording two samples instead of the normal three for onset, sustain, and end of note - harder to recreate in software, but infinitely more realistic. All possible intervals were recorded for truly fluid legato performances, and meticulous mic positioning captures the most favorable reflections for solo instruments. The result: 94 fully-playable chromatic articulations and 26 banks of special effect articulations. So real, it's like conducting the players themselves
REALISTIC PERFORMANCE
Shape performances with Dynamics, Attack, Release, Tightness, and Vibrato controls. Tightness and legato response time make note transitions softer or harder - infinitely useful for precise, angular melodic turns.
The Dynamics knob allows you to create expressive real-time performances:
create dramatic tonal shifts and long crescendos quickly and easily.
EASY TO CUSTOMIZE
SYMPHONY SERIES - BRASS SOLO adapts to any workflow. Assign articulations to key switches quickly and easily - all articulation types are color-coded for fast visual recognition (mirrored in detail on the KOMPLETE KONTROL S-Series keyboards). To accommodate different composer workflows, the interface provides three options for switching articulations: MIDI note, velocity range, or MIDI CC messages. If required, you can even assign each section to a specific key range to create custom key splits for a particular composition
DETAILED MIX OPTIONS
Open up the mixer to mix the perfect blend of close, mid, and far mics. With individual loading, volume, pan and output routing for each position, you have full control over your mix - plus a range of effect options. All mixer settings can be stored, and easily recalled for other NKIs